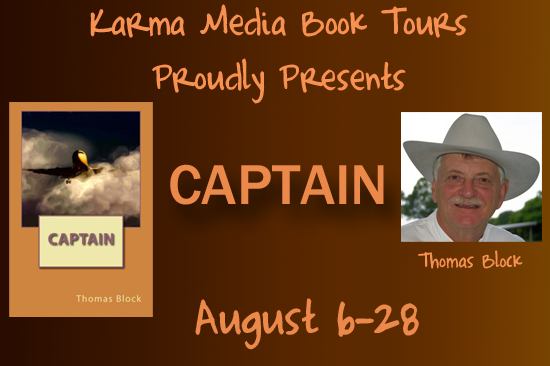 This will be the first book I have read in the aviation field. I think Thomas Block did an amazing job of giving information about aviation. I felt like I was learning so much at the same time as I was enjoying a good book. Captain was on wild ride! I was constantly on the edge waiting to see what would happen next.
I enjoyed all the different character views. Block wrote from so many characters' point of views that it was like a very complete story. You didn't just get one main character's way of thinking. I also liked the history that Block worked into the characters. I learned a lot about them in the moment but also a lot of what helped shape them and their decision in this scary situation.
I really liked this book. I think it is a definite must read for people who enjoy aviation, and also a great read for people who love that fast paced rush from a book. You can learn more about Thomas Block and his novel Captain at his
website
,
Captain Facebook page,
and
Thomas Block Facebook page
.
Rating:
Welcome to another great
Karma Media Book Tour
, where you will find honest reviews and insights into today's authors and books. Each tour stop is unique, so remember to check back with the tour daily. View the entire tour schedule here: This tour will feature:
Author: Thomas Block
Featuring the book: Captain
CreateSpace (April 7, 2012) - 348 Pages
Available in Paperback and Kindle ($16.99/$6.99)
Action/Adventure/Thriller
About the Author:
Thomas Block has written a number of aviation-oriented novels, many which have gone on to acquire best-seller status in numerous countries. His novel writing began with the publication of "Mayday" in 1979. That novel was rewritten with his boyhood friend, novelist Nelson DeMille in 1998 and remains on DeMille's extensive backlist. "Mayday" became a CBS Movie of the Week in October, 2005. Other novels by Block include "Orbit" (a top bestseller in Germany, among other nations), "Airship Nine", "Forced Landing" (also done as a radio serializatoin drama in Japan), "Skyfall", "Open Skies" and "Captain". Thomas Block is still writing both fiction and non-fiction, and has edited and updated his earlier novels into ebooks of all the major formats and also into new full-sized (trade soft cover) printed versions.
About the Book:
'Captain' is his most ambitious, intricate and action-packed aviation tale yet . It is a chilling and all-too-real story about a routine Trans-Atlantic airline flight that suddenly turns absolutely insane. In the doomed airliner's cockpit, inside the passenger cabin and on the ground, a complex array of characters have been propelled at jet speed into a sudden and frantic race for survival. 'Captain' is about the individual and collective struggles of each of these men and women as they attempt to deal with and ultimately fight against the odds and circumstances that are stacked against them. 'Captain' is a novel that pits man against man while also pitting man against machine. It is a story about the need for human judgments, hard-learned experiences, gut feelings and unbridled perseverance in an effort to rise up against a world where the strict adherence to written rules, regulations and procedures have been accepted as the norm. 'Captain' is about the way real airline pilots think, feel and react, especially after those giant airliners that they've strapped themselves to have suddenly turned vicious and unpredictable.
Disclosure: This tour was brought to you by Karma Media. As a participant of this book tour, I received a copy of the book in hardcopy or ebook format for the purposes of sharing my honest review with you.
If you are interested in joining Karma Media Book Tours or would like to explore the possibility of having Karma Media feature your book or series, we invite you to visit our team website at
www.karmamediateam.com
Check out what other Karma Media Team members think of Captain by Thomas Block. Enter on the Rafflecopter below for your chance to win a signed copy of Captain by Thomas Block! Giveaway ends September 11th.
a Rafflecopter giveaway